Announcements
Survey results coming soon!
Donations
Sponsors
07-14-2012, 08:10 PM
Code Name D
Abe's Salamander


Posts: 2,911
Joined: Feb 2010
Writing for Girls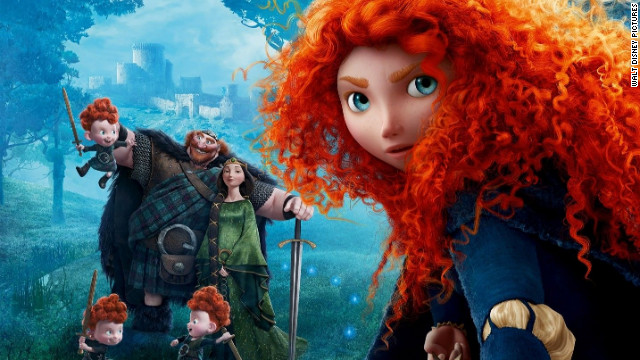 If you delve even superficially into feminism, it won't be long before you run into the anti-Disney crowd who continue to demonize Disney's poor betrayal of women, especially of princesses. They tell us that Disney provides poor role models for girls, indoctrinating them with self-destructive body images and self esteem issues, thinking that it's the boy's job to "rescue them" from their own lives and take them away to a happily ever after.
With the new move Brave out, rest assured that the feminists are out in force against this move for its betrayal of female characters.
To be fair however, Disney has made a lot of progress sense Snow White came out in 1937. Princesses are no longer delicate and beautiful creatures whose soul purpose is to be rescued by the daring prince. These new girls are far more three dimensional, complex, and capable. Indeed, Merida, the latest Princess to join the line (who's color code is apparently emerald green) actually bests the prices in archery, and does battle with a bear. Eeeek!
Disney also has another thing going for it… they are literally the only ones who are producing for this market. In my most humble opinion, for this reason alone the feminists need to lay off of Disny for a bit, and start sharpening their nails for all of the other movie houses who don't even think catering to girls is even worth perusing.
With that said however, I think they still may have a point in that Disney still has a long way to go.
But just where do they need to go?
That is what I have been doing research into, mostly out of curiosity. And believe me, the answers are very thin. This is a topic that writers, especially of the female verity, seemed to have neglected. Which is an extraordinary statement given that female writers actually out number male writers; at least when it comes to prose. (In the movie industry however, there hardly seems to be any female writers or directors.)
This places Disney in an untenable situation of confronting criticism without solutions.
For example, Disney is berated for always betraying girls as being perfectly shaped and beautiful. But IMHO, this isn't Disney's failing, as much as it is a fact of human biology. We are hard wired to identify with beautiful people, with women and girls even more so. And it has also been pointed out that trying to promote the idea that being fat or obese is not exactly a healthy idea either. This sin also seems to be universal through the entire industry, and not just in movies, but also in molding and advertising as well.
I do think that the issue of body image is a far more complex question than many feminists seem prepared to accept, involving maters of biology, nutrition, neurology, culture, female identity, fashion, and medicine, to name a few.
Thankfully, dealing with prose, we get to whistle past that particular grave yard so we can stroll right on into the larger minefield.
It should be pointed out that content for boys often focus on violence as a solution for the stories conflict. That is our young protagonist must best the antagonist in a contest of some sort; if not physically, than mentality. Girls tend to deal with conflict through emotions and fielding, in other words, they talk through the antagonist's problems. This of course precludes story types for each, boys are presented with problems where violence is an appropriate response, if not the only practical response, while girl protagonists are confronted with problems that are mostly emotional issues or misunderstandings.
Probably one of he more intriguing critic for girl content is to place the issue in juxtaposition against content for boys. In other words, the reason why girl story lines are so poor – is because content for boys is just as stereotypical. To treat boy content and girl content separately is by definition to treat them unequally. And examining the typical storyline for boys might lead into some insight for stories better suited for girls. Or better yet, story lines suited for both, especially given that brothers and sisters often share time in front of the TV.
Thus what is needed is a broader outlook for boy's stories as for girls. Boy protagonists need to be presented with conflicts where violence isn't necessarily the best solution, and where things could be resolved by openness and honesty. But paradoxically, the critics also argue the same for girl protagonists, which they also need to be subjected to conflicts where no amount of talking will lead to solutions. That there are times where violence is not only appropriate, by may be the only practical response to conflict.
And in actuality, the latest Generation of girl content seems to be going in this direction. I am told that the latest generation of My Little Ponies has to deal with a ravenous pack of wolves tracking them down with the intent of eating them. No amount of touchy-feely can smooth over these antagonists; they are driven by hunger alone, a very powerful motivator. The ponies have no choice but to either run away or when cornered, to fight there way to safety.
But it also presents another interesting idea, the notion of violence without detestation. It's the idea that the wolves are not attacking them because of hatred or intolerance, they just simply see the ponies as nothing more than food. (Nothing personal.)
Even in Brave, we actually see Merida crossing swords with her father, over a misunderstanding. Gasp – that's practically scandalous.
Unfortunately, I find these answers a less than satisfying, and even less useful. Making girl content more like boys is not really useful advice, especially when it comes down to the mechanics of plotting and prose itself.
Some of the other advice doesn't fare much better. My sister gave me two interesting tests. Does the girl protagonist have any peers, and do those peers talk about any thing other than boys?
The idea that a female protagonist needs peers is an interesting one. Boy content usually places the boy against the world, and it's up to him, and only him, to save it. In contrast, My Little Ponies clearly features a gaggle of girls who are constantly doing what ever it is that girls do – talking and sharing I assume. This is useful; always have more than one girl protagonist, some one she can share with.
But the test for boy-gossip is more of a do not rather than advice for what could and should be done. Besides, this does suggest a much weaker plot.
Much of the advice I encounter rest along these lines of do-nots and is direct more towards male centric media, such as comic book super heroes. Advice along the lines of not just having your female characters play the role of convenient love interests and objects ties to rail-lines that are constantly in need of rescue. Again, good to know, but not particularly much help.
---